First Mennonite Church has a long history of mentoring children as followers of Jesus Christ and proclaiming God's salvation to the ends of the earth. We have a long involvement in community mercy ministries including health care, care of elderly, emergency help, and jail ministry. Through prayer, Bible study, reflection, and conversation, we sense that God is calling us to a new future of building on these ministries for new generations.
We honor our tradition while we are being made new both in our relationship with God and our relationship with the community. Fifty percent of our worshiping congregation has joined us in the past ten years. New structures have been developed for new ministries. The congregation is trying new ways of reaching out to the community.
We welcome you to become a part of the newness that God is bringing to our hearts and to our mission in the world. We believe that we have connected with you by God's design and that God has good news for you in the fellowship of the church.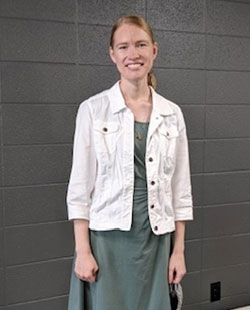 Laura Goerzen
Pastor
First Mennonite Church Newton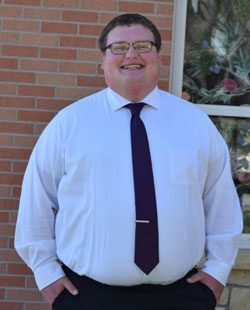 Luke Unruh
Pastor
First Mennonite Church Newton
From left to right:
Kevin and Carolyn Miller, Custodians; Luke Unruh, Pastor; and Laura Goerzen, Pastor; Tracy Kerr, Administrative Assistant
Affiliations
&

Denominations
First Mennonite Church belongs to the Western District Conference of Mennonite Church USA. We affirm the Confession of Faith in a Mennonite Perspective. Members of our congregation have been active both in the conference and in the denomination, and the congregation sends representatives (delegates) to the decision-making gatherings of both groups.
FMC also supports and is involved in the organizations of both conference and denomination. Our congregation provides scholarships for children and youth attending Camp Mennoscah (affiliated with Western District), and we have many youth and adults who have served there during summer camps. We support and are involved in the initiatives of Mennonite Mission Network, Mennonite Disaster Service, and Mennonite Central Committee, including the Kansas Mennonite Relief Sale.
A high percentage of our college-age youth attend colleges which are affiliated with Mennonite Education Agency. Because of our members' participation in Everence (the Mennonite-related financial services organization), we are able to leverage up to an additional $3,000 per year for charitable gifting.
In addition to Mennonite-related organizations, the pastors at First Mennonite are involved with the Newton Ministerial Alliance, the local ecumenical group serving our community. Congregational members serve in many organizations in the community and state.
Constitution
&

Church Policies
Download our church constitution and our governance policy manual